Just The Job – what does a journalist do?
Technology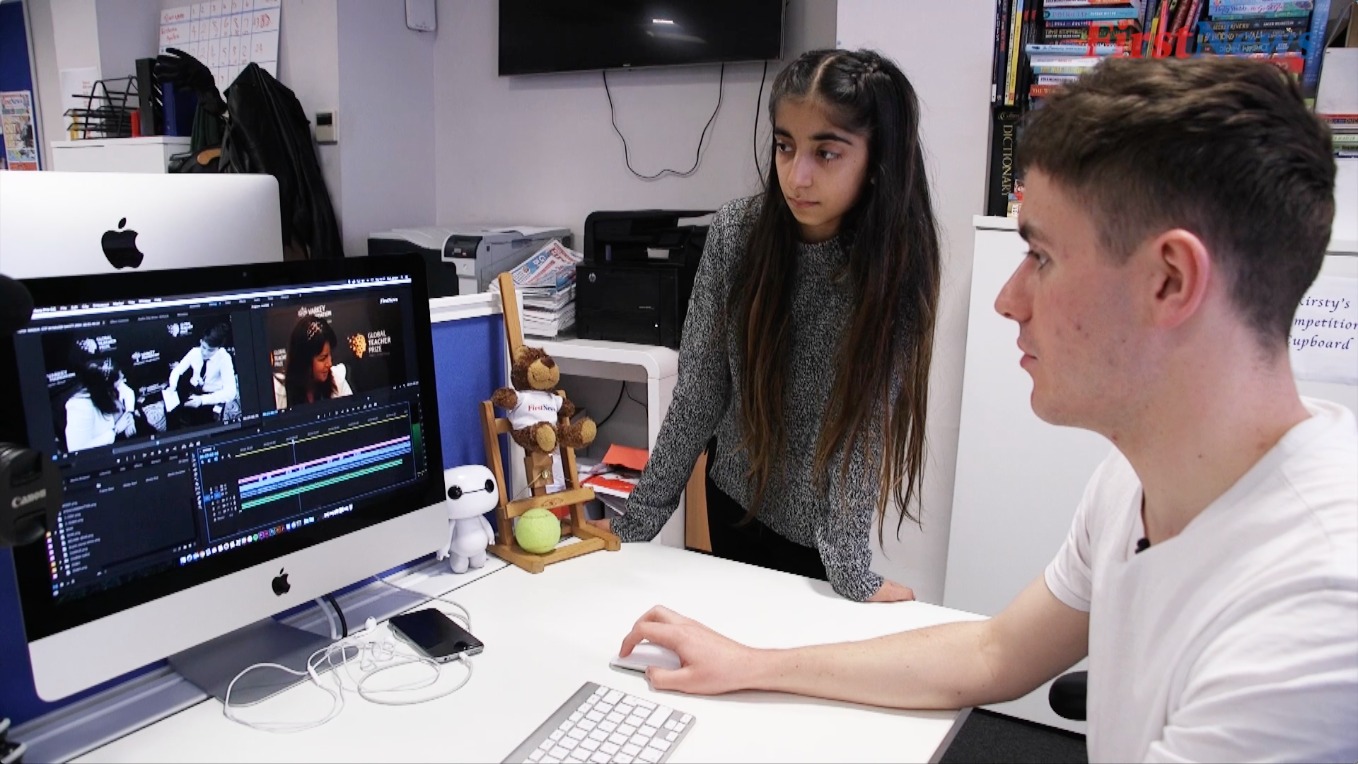 Technology has had a huge impact on how newspapers are produced. BT has been investigating how technology is changing jobs and what skills people need to make the most of it in the workplace, such as in this Just The Job film that goes behind the scenes at First News. Just The Job is a First News Live series that focuses on lots of different jobs that you might be interested in when you leave school.
What's the job?
Journalist.
Who would I be working for?
Local or national newspapers, magazines or websites.
What do they do?
Journalists write about national and global events, politics, sport, science, entertainment, and all of the other things that you read about in First News. Magazines or websites might specialise in a particular area, like cars or music or hairstyles.
What sort of work is involved?
Researching the latest news story and writing about it, from natural disasters and new scientific findings, to Oscar winners or some elephants being rescued from a mudhole!
Journalists have to be prepared to write about anything.
Interviewing people to get information for your story.
Checking facts, such as names, dates and locations, to make sure that what you're writing is correct.
Taking pictures and filming/editing videos to go with your story.
Speaking to contacts and press officers, so that you're up to date on whatever you're covering.
Reading other papers, magazines and websites, as well as things like Twitter, so that you know what's going on elsewhere and what people are talking about.
Going to events and press conferences to find out information and ask questions.
What skills do I need?
Excellent reading, writing and communication skills.
The ability to sum up complex information and multiple events in a small number of words.
IT skills, as you'll be using computers and the internet all the time. You'll use designing and editing programs like InDesign and Photoshop, or web-based content management systems like WordPress. Photography and video editing skills are also essential.
Curiosity, as journalism is often about digging a little deeper and finding out the truth behind a story.
Ability to work under pressure and to very tight deadlines.
Ability to get on well with people, as you'll deal with a wide range of people from very different backgrounds.
What qualifications do I need?
A degree in journalism or postgraduate qualification (one you get after you leave university) is ideal. Many people also learn on the job by getting an apprenticeship. You can find out more on the website of the National Council for the Training of Journalists.
Anything else I need?
A driving licence may be needed for a local or national newspaper reporter.
What hours would I work?
Journalists, especially those who are just starting out, may have to work long hours, weekends and bank holidays, and travel long distances to get to events or interviews. Daily newspapers probably have the most anti-social hours, whereas a magazine that comes out every month may be closer to 9.30am – 6pm, Mon-Fri.
Where would I work?
The biggest-selling UK newspapers and magazines are generally based in London, Glasgow and Belfast. But many places have local newspapers, and there are large magazine publishers in places like Peterborough, Bath and Bristol. Many freelance journalists work from home, although they may need to travel a lot to get information and interviews for their stories.
How much would I get paid?
A trainee may start on around £15,000, rising to £30-50,000 for someone with lots of experience and a more senior position. An editor could get significantly more, and daily national newspapers will generally have higher salaries. Freelance journalists who write for lots of publications will get paid either by the word or get a set fee for an article.
Can I do work experience?
Yes, lots of newspapers and magazines will take people on, so write to them and let them know why you want to work there. Any practical experience is very important, so writing articles for websites or your school newspaper will be a big help. If your school doesn't have one, why not start your own?
How might the job change in the future?
Software is already being used by some newspaper websites to instantly create news stories based on certain events, such as earthquake tremors or business reports. Hopefully this will give journalists extra time to work on more complicated stories or ones that need a human touch. As the world gets more technology-based, journalists will need to be more tech-savvy than ever before.
See all Technology jobs – in association with BT.