Banoffee Pie recipe by Eric Lanlard
Get Cooking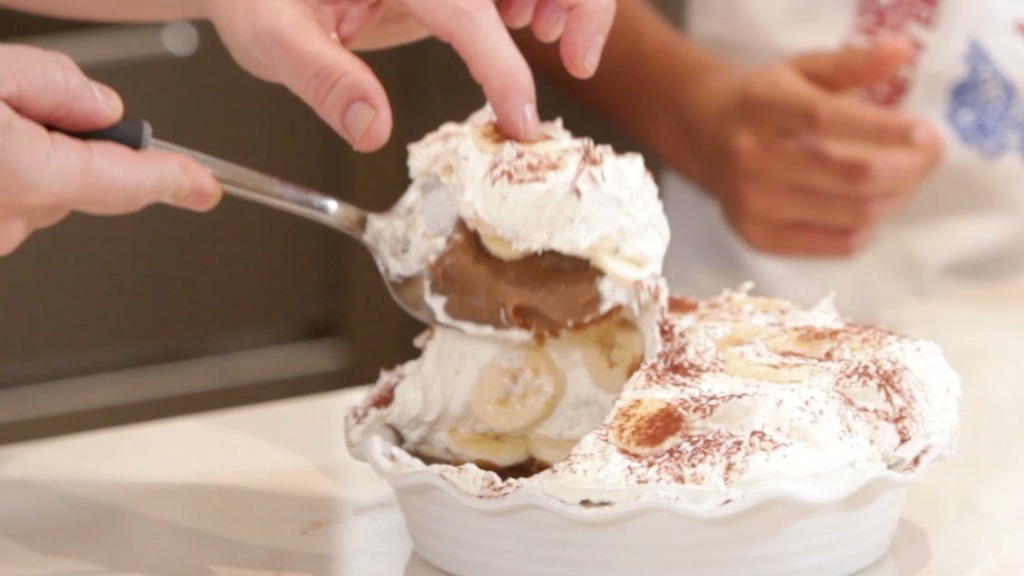 Brought to you by P&O Cruises Food Heroes. Eric Lanlard – aka Cake Boy – shows First News how to make a delicious banoffee pie. Eric's tip: use bananas that are just under-ripe.
Ingredients
250g Hobnob biscuits
100g unsalted butter (melted)
100g dark muscovado sugar
100g unsalted butter
400g condensed milk
3 large bananas
300ml whipped cream
Cacao powder
Method
Crush the Hobnob biscuits into large crumbs. One tip is to pop them in a freezer bag and use a rolling pin.
Add the melted butter to the crumbs, stirring to mix it all together. Press the mixture firmly into the base of a pie dish, going right up the sides. Put it into the fridge to set for 20 minutes.
Put the sugar into a pan, add the butter and melt on a high heat, stirring continually. When it is melted add the condensed milk and bring it to the boil. Simmer the mixture for 5 minutes.
Pour the toffee sauce on to the set pie base. Turn the pie dish to help spread the toffee evenly. Pop it back into the fridge for 20 minutes to set.
After 20 minutes the sauce should be set but a bit sticky. Slice your bananas and place them on top of the toffee in a nice circular pattern.
Using a palette knife pile the whipped cream on to the top of the pile, building it nice and high.
Clean the sides of the dish and add a few more slices of banana on top. Sprinkle with the cocoa and serve!
Try your hand at more recipes on First News.